Former Miss Universe and Bollywood actress Sushmita Sen suffered from a heart attack. The actress took to her social media to reveal that she even had an angioplasty, and a stent has been placed in her heart now. However, this is not the first time that she suffered from health issues. She had earlier revealed being diagnosed with the autoimmune disease, Addison's disease. She was tested back in 2014 and has depended on steroids ever since. The actress also wrote about how the health scare had shaken her up and made her think about how long she will be able to 'sustain' herself.
Sushmita Sen took to her Instagram on Thursday. The actress, who is one of the fittest stars in the entertainment industry, disclosed that she had suffered a heart attack a few days back and had to undergo an angioplasty. Sen also iterated to her fans that she is currently doing well and on track to recovery.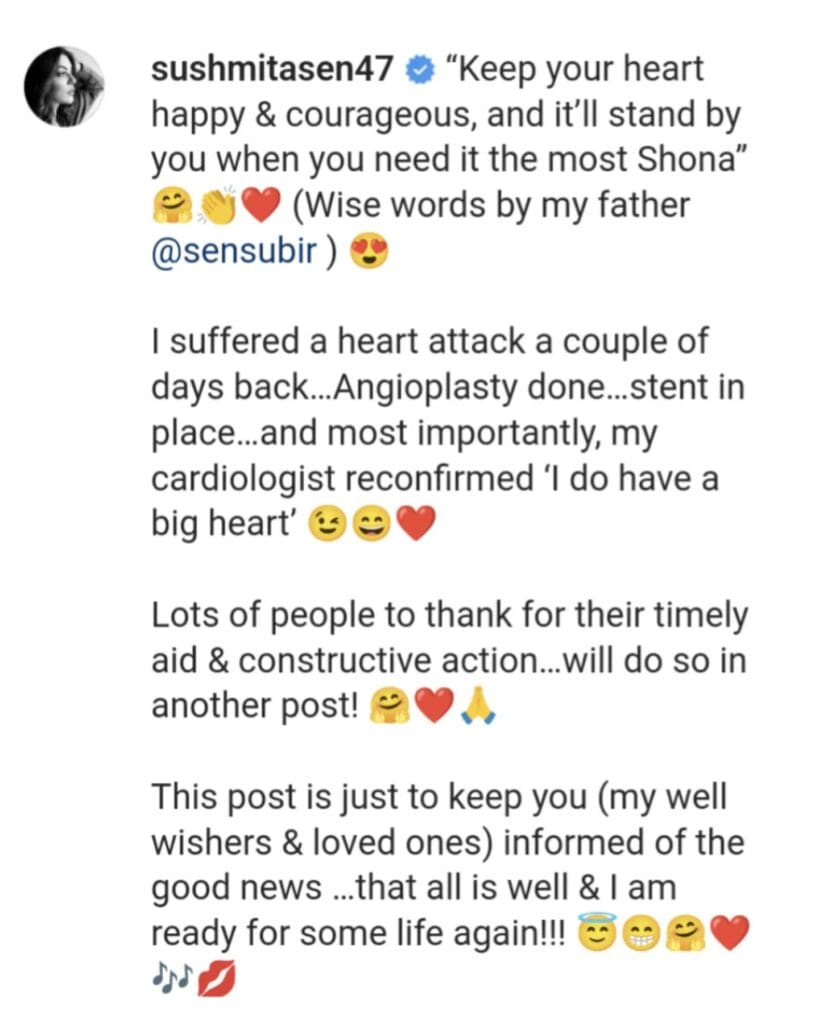 Sushmita Sen wrote, "Keep your heart happy & courageous, and it'll stand by you when you need it the most Shona" (Wise words by my father @sensubir) I suffered a heart attack a couple of days back. Angioplasty done. Stent in place and most importantly, my cardiologist reconfirmed, "I do have a big heart' Lots of people to thank for their timely aid & constructive action. Will do so in another post! This post is just to keep you (my well-wishers & loved ones) informed of the good news. That all is well & I am ready for some life again!!! I love you guys beyond!!!! #godisgreat #duggadugga."
Soon after Sushmita Sen shared her health update on Instagram, several celebrities across the film industries, fans and well-wishers hoped for her speedy recovery. Sushmita Sen was last seen in the second season of Disney Plus Hot star show Aarya. She is currently preparing for the third season.