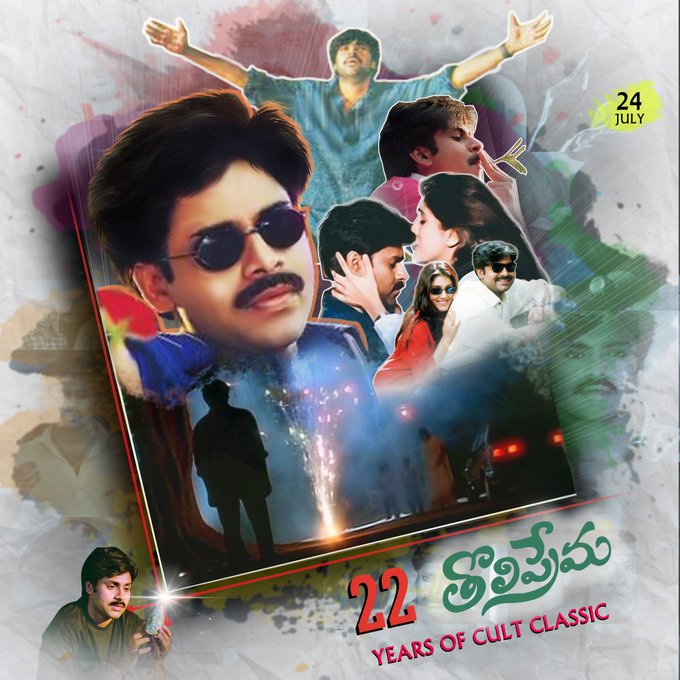 Starring: Pawan Kalyan, Keerthi Reddy, Venu Madhav, Ali, Vasuki, Nagesh, Sangeetha, Narra Venkateswara Rao
Directed by: A Karunakaran
Released on: July 24, 1998
The Beginning:
Director A Karunakaran noticed Pawan Kalyan on a Magazine Cover photo and decided to make a film with him. That's how Tholiprema was started. Later, he came to know that Kalyan is the brother of his favourite hero Mega Star Chiranjeevi. His decision got even firm and went to Pawan Kalyan to narrate the story of Tholiprema. A funny incident had taken place while Karunakaran was narrating the story, suddenly Pawan took a revolver from his pocket and placed it on the table. After seeing it, Karunakaran was frightened and Pawan Kalyan started laughing and asked to continue the story. However, Pawan got impressed and signed the project under the production of G.V.G Raju.
Plot:
Tholiprema, the name itself speaks about the first love. This film portrays the beautiful love story of a young couple Balu(Pawan Kalyan) and Anu(Keerthy Reddy). Alongside a love track, Karuna Karan created many other elements like Friends, Family emotions and sister's sentiment which are more relatable to everyone's individual life.
Pawan Kalyan's performance: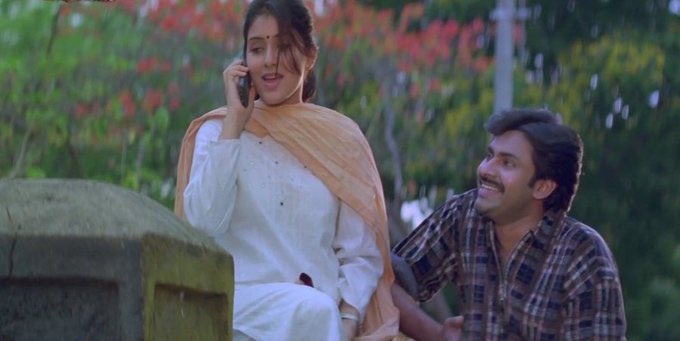 Pawan Kalyan has breath life into the role of Balu. His performance was so natural that audience could easily relate to his character. His costumes and the RX 100 bike that was used by him in Tholiprema attracted the youth of those days. There were so many scenes in the movie that people can relate to. Father scolding the son, teasing sister, and the emotional bonding between friends and family. The other cast also performed well.
Karunakaran's Brilliance: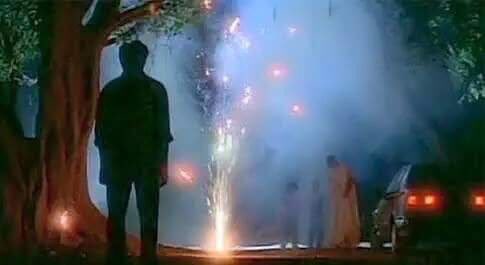 Karunakaran was just 27 years old when he directed Tholiprema. Though it was his debut directorial he dealt the script extremely well and gifted a classical hit to Pawan Kalyan's fans. Definitely, we have to discuss the heroine intro scene. On the festival of Diwali, the hero happens to see the heroine in the cracker's lights. The birthday gift is one more example of Karunakaran's brilliance. This is the best heroine introduction in any movie till date. He made Tholiprema as a perfectly balanced entertainer with love, comedy, emotions, sentiment in equal quantity.
Sound Track and Technicality:
Deva composed an album of 5 songs which arrive situationally on screen. Each song is unique in its style and added completeness to the movie. Yemaindo Emo song was remixed for Nithinn's Gunde Jaari Gallayanthayyinde. Nithinn always says that Tholiprema is his favourite movie and Pawan Kalyan is his inspiration for him to become an actor. Earlier, the moviemakers thought of giving up the Taj Mahal set in the song of Gagananiki Udayam due to some budget limitations but Pawan Kalyan had cut his remuneration and asked to erect the sets and later the song became super hit. The other technicians like Dialogue writer Ramana, Art director Anand Sai, DOP Maheedar also well justified their roles.
Box-Office:
Tholiprema completed a successful 50-day run in 54 centres, 100-day run in 17 centres and also a 175-day run in 5 direct centres. It collected a Worldwide share of 7.5Crs+ through it's theatrical run.
Awards:
Tholiprema bagged the National award for the best feature film in Telugu. Director Karunakaran was honoured with a couple of Nandi Awards for the best screenplay writer and the best debut director.
Remakes:
Tholiprema was remade in Hindi as Mujhe Kuch Kehna Hain and in Kannada as Preethsu Thappenilla. Both these films were successful at the box-office.
Conclusion:
The USP of Tholiprema is that the lead pair won't express their love towards each other till the climax. The climax airport scene was designed well and heart-touching. Finally, all these factors made Tholiprema a cult classic in Pawan Kalyan's and Karunakaran's career.
Movie available for streaming on:
Also read Revisiting Kushi